Hong Kong Lighting Fair 04/2019:
lots of samples picked up by customers directly

6th~9th April 2019, HYRWELL attended Hong Kong Lighting Fair Spring Edition, exhibited many designs of track lights at our booth:3C-D30.Many customers were interested in those track lights on exhibition and intended to buy samples back to test at that spot. So the last two days of lighting fair, Our kind customers usually came back once more or twice more.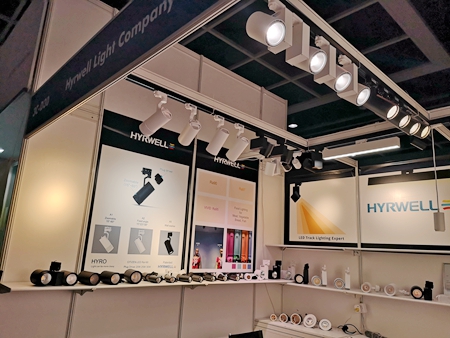 Maybe you will ask which products are customers' favourite. So many customers coming here, with different demands, take charge of different projects or tasks. Conclude from this Fair, HYRO,TLG, TLQ, TLS, TLE, 5 series track lights are customers' favourite types. And which functions are customers' most pay attention to? Dimmer on lamp, zoomable, and CCT dimmable are these functions&applications that customers wanted to know more and try some samples first.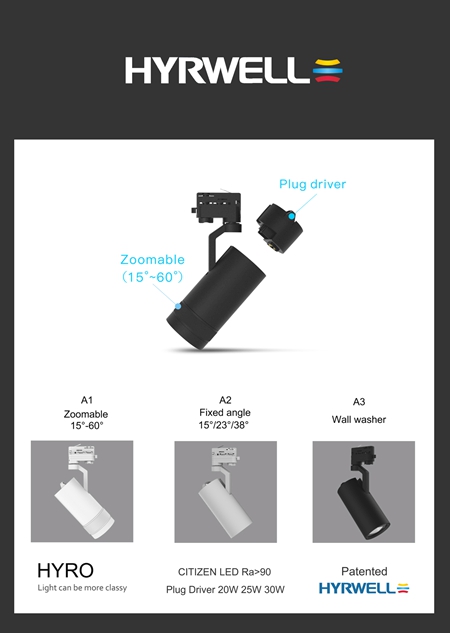 Customers said:"can you show this?" "Of course, we can", we are so happy to show all about those exhibited samples. Take HYRO zoomable type for example, around 10 people at least want to see its effect of zoomable, some girls of our staff, their height are just about 155cm or 158cm or 160cm, so they must stand on chair, customer worried about them, and would remind us "be careful". But absolutely we are not afraid of that, because we must show samples often at every lighting fair, or when customers visit our factory. Then, customers see all, told us:"oh, very good, thank you. You are so good."

Another example is about CCT, when customers passed by our booth, was took attention by our promotion posters, especially about CCT dimmable by remote controller. Then came in and asked "how to control it" or " i want to know its application", so we took remote controller control the group of track lights to show the change of different color temperature and brightness again and again. If some customers wanted to try, we must teach them.

All this we do, are our pleasure. It's so happy to meet so many kind and welcoming people. We are so appreciated.

Because HYRWELL is concentrate on track lighting, so those customers who are really searching for or need track lights, usually would come in our booth, and discuss with us about more details.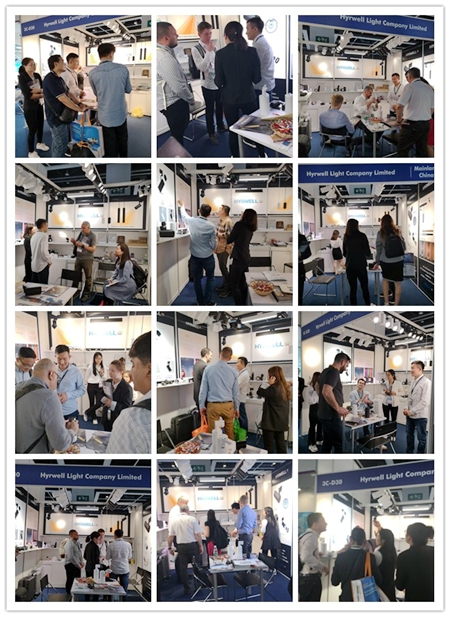 So thankful to those kind customers' coming that we know what they are need at present or in near future.

From the whole Lighting Fair Spring Edition, people were less than last year, maybe the economy is not good or the spring edition is not good as autumn edition, some customers also said to us like that. But we believe that enough hard work can take good effects. Whenever the situation is good or bad, we will always at your service, anything we can do for you, just freely contact us, we will support you with doing our best. Sticking to high quality and innovation, are never stop. Some of our customers who are cooperate with us all the time told us the economy in their country were not well but will follow and pay attention to our products all the time. But from the current situations, it is getting better and better.

So judging from the situation that customers coming to our booth, we are successful in this fair. Many customers came back again and again because they want to take samples back for test so that they can make sure whether they can place orders. At the spot of lighting fair, many customers made appointments with us that they would visit our factory. So after we came back to Shenzhen, these days we are busy with customers reception, and they expressed the intention of cooperation. If you are in China, welcome to visit our factory at any time. We appreciate of that.
By Tina